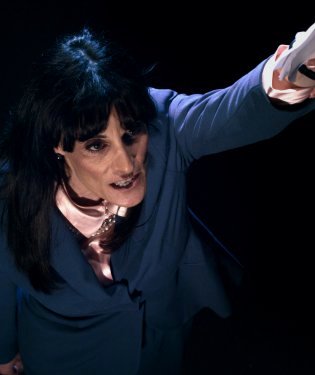 BRAND NEW TRAILER

We just posted a fast paced, right to the point trailer, so you can get the thrust of the plot of The Last War Crime movie in just 60 seconds. To find out if our heroine was successful in her mission, you will have to actually watch the movie.

The Last War Crime movie trailer

**********

BIG NEWS INTERVIEW WITH THE PEN

Writer/Director Pen just did an extensive interview on the fight back against censorship of the The Last War Crime Movie which was featured as their top story on OpEdNews.com, one of the premier outlets of progressive news and opinion.

Read Pen's wide-ranging inteview about The Last War Crime

**********

DICK CHENEY'S EXTRAORDINARY VACATION

Remember when the former VP was always in some secret, undisclosed location? This is a bona fide offer to send Dick Cheney on vacation trip to sunny Spain.

The offer includes a ONE WAY coach class plane ticket on the commercial airline of our choice to take Dick Cheney from Washington, DC, to Madrid, Spain, on a date to be selected by him with 30 days advance notice to us. Ticket must be claimed by Dick Cheney in person at the airline counter on flight check in and used for that purpose. We will also pay for one week of the basic room charge for a hostel style accommodation of our choice in Madrid. No other expenses are included.

Hear the radio spot right wing radio won't run.

And by the way, it's not just corporate radio that is rejecting our ads. We generated over 13,000 protest messages to Viacom for refusing one of ads for the MTV Times Square Jumbotron, and they still would not accept the ad.

**********


WATCH THE AD MTV (VIACOM) REJECTED, AND SUBMIT A PROTEST TO THEM ABOUT IT They told us they would have to approve the underlying content of the film to even accept an ad for it!!
View the last 25 personal messages sent


We don't have acres of servers like YouTube, but if you allow a couple extra seconds this player will fully load and cache the clip and it will play and replay smoothly. If we get a lot of hits it may slow down, but please be patient and you will get the whole thing.



Please submit the form below to send your message of protest to all the recipients below. This is the basic petition, and you can add whatever additional personal comments you like.

It should be noted that MTV rejected our ad based on the video ALONE, there being no audio for their Times Square screen, but we have included the sound track also in the clip above.


Friends of The Last War Crime: